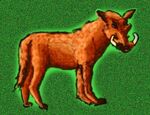 Eäahumm!! So I had an account here too? I couldn't remember, so I simply tried to logon, to see what would happen. I'm going to make a database over important wikis.
Etc. etc..
To my general confusion, it seems like I'm active here too. I think I remember editing here, which is of course natural, since the borders between wikias and wikipedias are dissolving. This is a programming site, and I'm a programmer by profession, and although I don't generally like programming without a clear and technically oriented application that attaches to real reality, I'm going to cleanup here in order to cleanup my brain.
My favourite hardware/software
Edit
I hate hardware/software!! I like humans and animals (mostly) and since hardware/software is so fundamentally different, they're evil manifest. Something must be done against it!!
I prefer, by habit, to program C, then C++, some little Python, some awk, bash, Java and anything that is needed for the moment. I'm going to learn a little more Java because that is commonly used. However: all programming languages s*cks! Fundamentally! Java is a vast deterioration of C++, C++ is an extremely hard-to-learn obfuscation of C, mostly because it confuses virtual tables and unimplements plain old data which is needed in order to communicate via Internet without mysterious crashes, and in order for threads to work seemlessly. While the superficial masters of capitalism believes that "everything is running so fast now", they simply refer to the fact that there is an inflation in deteriorating replacements of former software.
JRE, as opposed to Java, contains everything that almost every other language lacks, with the exception of trans-net-jumps. A trans-net-jump is a goto or a procedure call that transfers the executing procedure from one computer to another, while this new procedure execution immediatelly resumes at this other computer. This is like worms running in a secure can, and most programmers would think it is a very bad idea, but that presumes that the receiving/running computer gets no advantage from it. There are some building blocks in JRE that might allow trans-net-jump, but the abstraction is not available in Java.
JRE also don't have 4D graphics (3D with dynamics) but instead a stupid 2D graphics system. JRE has one major problem: it makes similar things multiply, such as AWT and Swing, JDBC, Java IDL and RMI which thrice covers two interconnected topics that should be treated as one. This is the typical API independence bloat and characteristic of all 3rd gen PL:s.
My preferred applications
Edit
Astronomy,
Linguistics,
Collaborative editing over Internet.
Mad ramblings (a prelude to Systemika)
Edit
Somehow the human brain structures facts in a certain way that is reflected in programming, in speech, in meeting structures and in documents. The mechanisms are:
existensial (deemotionalized Kierkegaardoidic): the human drive is to perceive/achieve, mentally according to the cycle:
where are we?
to where do we go?
how do we come there (alive!)?

when transformed to the microbe level, this simply collapses to a differential equation system.
perception-visioning: the human structures a major task by subdividing it into subtasks, the conceptualization automatically going from global to specific/detailed, in this process there are two major elements:
the perception which is similar to viewing and perceiving according to static pattern matching with preexperienced patterns ("experiences"),
the vision "boiling" process, similar to day dreaming, is a dynamical game where the perceipt is laborated with known acts that allows the individual to change the surroundings, while conventional planning theories presume crude force search, top-down, A* and such, in reality it is an ANN process,

the perception-visioning is applicable to all three existential execution stages, more or less, so it introduces another dimension,
the generated "acting cluster" of acts and alternatives has a certain "fine grainedness", so that each node is deemed mature, in such a way that the individual deems him/her-self proficient in doing the act. There are limitations of complexity of alternatives and limitations in "planning" time, that taxes the intelligence of the individual as weighted against the urgency to act. (This is where "extroverted" leadership of human society generally fails: the planning time is too short and the planning process too sloppy)
perceiving-acting: the human acts on a plan when it is "mature", i.e. holds alternatives according to a certain richness, and those alternatives are covered by self-mastered practiced abilities. Various persons have varying thresholds for acting, defining some basic personality types, and making those personality types each most effective under different event complexity conditions of the surroundings. (It is therefore concludable, if we may, that the flora of personality types is an evolutionary advantage for the group, and that the current insane gleich-schaltung of who are going to be included and excluded, is a recipe for failure of humankind.)
Perceiving and acting are potentially simultaneous, smart humans "replan" (by colloquial language "adapt") continuously during a dynamic event setting, so that the act cluster is continuously changing according to the changing course of events.
All these mad ramblings will be elaborated in Systemika, but my s/w plans will regard using pattern matching knowledge frames as programs instead of programs, which have the main deviant qual of being instantiations and therefore contain facts similar to if a migrating program also migrated its execution state and full variable instantiation. Impractical if using programs, but with knowledge frames the process and migration will probably become effective.
Nerd profiling
Edit
If the previous section wasn't enought to explain who I am (seems like some priests I know erroneously believe I'm a holy man, in real reality I'm any Random Joe Bastard), the following profile somewhat reflects how I act in practical life:
I'm running Linux and have done so permanently since I abandoned OS/2 in about 1996. The first reason was that Linux had virtually unlimited access to programming languages and thereto very good integration to them. I have a AMD Sempron-something, running three partitions on a 80 Gb hard disk that is slowly approaching a total crash. I run Debian/GNU/Linux Lenny. I've tried Ubuntu but think it is a pain in the ass.
I run PostgreSQL as my database system. I also run a rehacked version of the C-coded web server DidiWiki which I'm going to release as rehackable code when the my rehack is mature enough. The rehack will have the qualities:
very carefully code documented — code is rehackable only if documented,
the markup language should be more like MediaWiki markup language, so that simple texts can be moved to f.ex. Wikipedia or Wikia with little or no modification,
the name of the rehackable web server will be μWeb, not DidiWiki.
Jesdisciple is a programmer, a bicyclist, and a Christ-follower. Me too.