The National Olympiad in Informatics (NOI) is an annual Informatics Competition for secondary school students. The first NOI was held in 1984.
Overview
Edit
The contest consists of two days computer programming, solving problems of an algorithmic nature. Students compete on an individual basis, with up to four students competing from each participating province (with around 30 provinces in 2003). Students are selected from similar contests in their own province.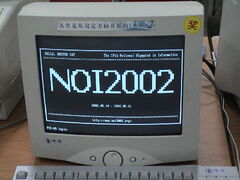 List of NOI Locations
Edit
NOI 2008 will be held in Shaoxing, July - August, 2008
NOI 2007 was held in Fuzhou, July 28 - August 3, 2007
NOI 2006 was held in Sichuan
NOI 2005 was held in Zhengzhou, August 5 - 11, 2005
NOI 2004 was held in Changsha, August 8 - 14, 2004
NOI 2003 was held in Shanghai, August 3 - 9, 2003
NOI 2002 was held in Tianjin, August 10 - 16, 2002
NOI 2001 was held in Xi'an in September, 2001
NOI 2000 was held in Macau in March, 2000
NOI 1999 was held in Beijing in July, 1999
NOI 1998 was held in Hangzhou in August, 1998
NOI 1997 was held in Hong Kong in August, 1997
NOI 1996 was held in Shanghai in August, 1996
NOI 1995 was held in Nanjing in August, 1995
NOI 1994 was held in Beijing in August, 1994
NOI 1993 was held in Taiyuan in August, 1993
NOI 1992 was held in Beijing in August, 1992
NOI 1991 was held in Xiamen in August, 1991
NOI 1990 was held in Beijing in August, 1990
NOI 1989 was held in Huizhou in December, 1989
NOI 1988 was held in Beijing in August, 1988
NOI 1987 was held in Weifang and Qingdao in August, 1987
NOI 1986 was held in Beijing in August, 1986
NOI 1985 was held in Tianjin in August, 1985
NOI 1984 was held in Beijing in August, 1984
See also
Edit
External links
Edit
Ad blocker interference detected!
Wikia is a free-to-use site that makes money from advertising. We have a modified experience for viewers using ad blockers

Wikia is not accessible if you've made further modifications. Remove the custom ad blocker rule(s) and the page will load as expected.